Direct Download Links of TamilNadu Samacheer Kalvi TNTextBook are given at www.tntextbooks.online. And the Government of TamilNadu authorised TNSCERT TextBook Corporation is the sole authority to publish the TN School Books. TNTextBooks is the very prominent study material for various competitive exams in India, mainly for TNPSC. The TamilNadu State Government TNTextBook is the BackBone of TNPSC Exams. You can get the TN Text Books via Online Registration at E-Seva Centers. Of that, You can get the Hardcopy of TamilNadu State Board Books. It will be send directly to your registered home address. Buy the TextBooks via textbookcorp buy Online.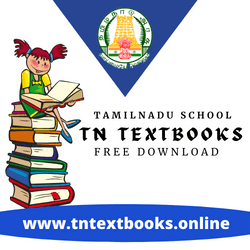 TNTextBooks 2023 PDF Download – Class 1st to 12th Std Books
In the year 2010, Our Tamil Nadu State Government is released a common pattern for TN SCERT Books for all students in the state. Simply, they called Tamil Nadu Samacheer Kalvi Books. By this system, all the students in the state will get common pattern to study for the examinations.
These TNText Books are provided by TamilNadu Arasu free of cost. Everyone can develop in your's life, by using these books in proper ways. The TamilNadu Government published TextBooks is not only useful for your school exam preparation. It is also useful for aspirants of various competitive examinations in India, particularly for TNPSC. i.e, Tamil Nadu Public Service Commission Examinations.
You can easily access, by simply clicking the Download Links. Then, it will automatically begin to download in PDF format.
வணக்கம்…
இங்கே தமிழ்நாடு அரசு பள்ளி பாடப் புத்தகங்கள் முதல் வகுப்பு முதல் வகுப்பு பன்னிரண்டாம் வகுப்பு வரை கொடுத்துள்ளோம். நம் தமிழ்நாடு அரசு 2010ஆம் ஆண்டு அனைவருக்கும் சமமான ஒரு பாடத்திட்டத்தை அறிமுகப்படுத்தியது. அதற்கு பெயர் தான் தமிழ்நாடு அரசு சமச்சீர் கல்வி திட்டம். இத்திட்டத்தின் மூலம் தமிழ்நாட்டில் அனைவருக்கும் சமமான பாடத்திட்டத்தை பின்ப்பற்றினர்.
தமிழ்நாடு அரசு நமக்கு இந்த பாடப் புத்தகங்களை இலவசமாக வழங்கியுள்ளது. இதை நாம் பயன்படுத்தி வாழ்க்கையில் முன்னேற்றம் அடைய வேண்டும். இந்த புத்தகங்கள் பள்ளியில் படிக்கும் மாணவ-மாணவிகளுக்கு மட்டுமல்லாமல் போட்டித்தேர்வுக்கு தயாராகும் இளைஞர்களுக்கும் பயனுள்ளதாக அமையும். குறிப்பாக, தமிழ்நாடு அரசு பணியாளர் தேர்வாணையம் தேர்வுகள்.
நீங்கள் அனைத்து விதமான தமிழ்நாடு அரசு சமச்சீர் பாடத் திட்டங்களை இங்கே எளிதாக பதிவிறக்கம் செய்துக்கொள்ளலாம். இங்கு கொடுக்கப்பட்டுள்ள லிங்குகளை அழுத்தியவுடன் உங்களுக்குத் தேவையான பாடத்திட்ட புத்தகங்களை பிடிஎஃப் பார்மெட்டில் பதிவிறக்கம் செய்து கொள்ளலாம்.
Important FAQs
TNTextBooks Google Playstore Mobile App Free Download Link?
To Download Free TNTextBooks Mobile App, Use the Link TNTextBooks App – VirKozKalvi Publications. It covers all Standard TamilNadu School TextBooks with Proper Book Back Answers-Solutions and MCQ's to Check your knowledge.
Where can I download TN School Books PDF?
You can download the TNTextBook from the website tntextbooks.online
Where can I get hard copy of New TNTextBooks in Tamilnadu?
You can order the TNTextBook on the official website of textbookcorp.in and get into logged in using the login credentials that you've received through the SMS.

(or)

For PDF, You can download the books on the website of www.tntextbooks.online
How do I get soft copy of Old and New Samacheer Kalvi Books?
You can download Free E Books from the website of tntextbooks.online
What is the functions of TamilNadu TN SCERTs?
TNSCERT is established in the year of 2009. It is publishing the TNTextBooks or Tamilnadu Samacheer Kalvi Books at free of cost. You can Download the TNTextBook in www.tntextbooks.online
Some Other FAQs
How do I Order TN Samacheer Kalvi Books Online?
1. Go to the Official Website of textbookcorp.in

2. Click the Student Login Column and enter all the required login credentials.

3. First Register yourself by giving your details as student.

4. For every Standard of School Books, you have to give different Email ID [ i.e, Each Std – Need Different Email's ]

5. Then, Order the Books standard wise through online payment.

6. You will receive the Books within one week, after your successful payment.
How do I Buy TamilNadu Government School Books Online?
Step 1 : Go to your nearest E-Service Centre, run by the State Government of Tamil Nadu.

Step 2 : Know the Book Detail of any standard of TNTextBook, that will be required for you. You can also ask availability of any particular school books from the E Service Centre.

Step 3: Finally, you should Pay money for your Ordered books in the E Seva Centre.

Step 4: Don't forget to get the receipt of your ordered books.

Step 5: You will receive the Books within one week, after your successful payment.